The term BPA means Bisphenol-A. It's an industrial chemical that has been in use for quite some time since the 1950s. Bisphenol-A is used to make resins and plastics and can be found in many epoxy resins or polycarbonate plastics. One verily available polycarbonate plastic is the water bottles that we drink water out of or plastic Tupperware to store food.
On average, millions of BPA water bottles are used throughout the world every day. Whether it's reusable or not, the question is, if it is safe?
Are the risks of using BPA bottles borderline deadly? I'm here to tell you all about it. You should be aware of the purchases you make and of the food you ingest, right?
It's better to stay informed than to make poor choices unknowingly. Please keep reading for my full article and become passionately aware of the food you splurge on.
Table of Contents
BPA-Free Bottled Water Update: 24th march 2023
I found several changes in the brands of bottled water market during the past months.
So, I did my research and contact a few water specialists to get more accurate data for this new " BPA-Free Bottled Water: Top 10 Brands " article.
What Brand Of Bottled Water Is BPA Free?
You might be wondering what brand of bottled water is BPA free. Well, most reputed water brand now uses BPA-free PET or HDPE plastic water bottles. However, here is my recommendation based on my test results for the top 10 BPA-free Water Brands.
Here are my reviews of the top 10 BPA-free water brands in detail:
Top 10 BPA-Free Bottled Water Brands 2023
This year, I tested several water brands for BPA-free water bottles. I was impressed with several brands of plastic water bottles. So, here are my top picks:
Core Hydration
JUST Water
Fiji Water
Dasani Water
Evian Water
Essentia
Perrier
Pure Life Water
LIFEWTR
Smart Water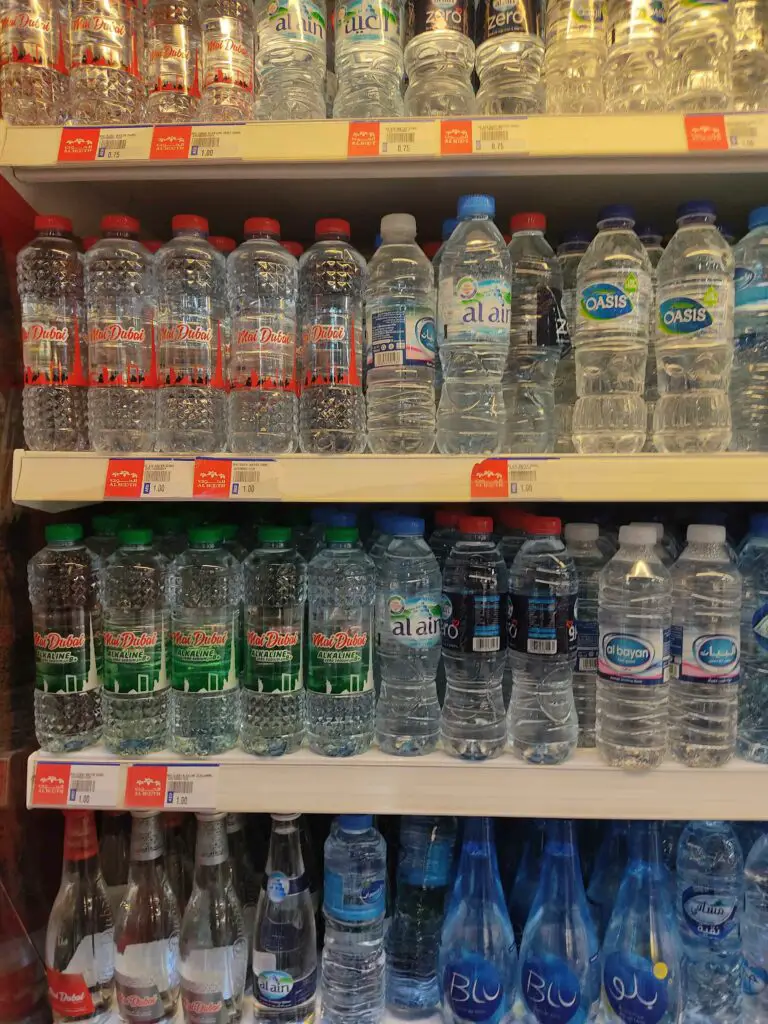 CORE Hydration
CORE Hydration is a brand of water that is ultra-purified and balanced with electrolytes and minerals to work in harmony with your body's natural pH of 7.4. The company uses 100% recycled plastic (excluding caps and labels) to make its bottles, which are also recyclable and BPA-free.
CORE Hydration comes in various sizes, ranging from 23.9 Fl Oz to 30.4 Fl Oz. This water is designed for an active lifestyle and can help promote hydration and balance in the body. Its perfectly balanced pH level ensures that it is not too alkaline or acidic, which can be harmful to the body.
Overall, CORE Hydration's nutrient-enhanced water is an excellent choice for those who want to maintain a healthy lifestyle.
| | |
| --- | --- |
| Cost | $1.99 – $5.28, depending on ounces and liters. |
| pH level | 7.4 pH level |
| Fluid Ounces to Milliliters | 1 liter, 1.5 liters, 16.9oz, 20oz, 23.9oz, 30.4oz |
| Natural Electrolytes/Minerals | Calcium: 24 mg/L, Magnesium: 7.9 mg/L, Potassium: 20 mg/L, Chloride: 15 mg/L, Total Dissolved Solids: 220 mg/L |
| Safety Information | Recyclable, BPA-free. |
| Legal Disclaimer | This product is not intended to diagnose, treat, cure, or prevent any disease. |
| Pros | Perfectly balanced pH water is designed to work in harmony with your body's natural pH of 7.41. Ultra-purified and enhanced with electrolytes and minerals |
| Cons | Expensive |
CORE Hydration product details table
JUST Water
JUST water is owned by Will Smith and Jaden Smith and is famous for its rapid growth, mainly in the US. It is easily the No-1 brand selling water, especially at Whole Foods retailers.
The best catch about JUST water is that their paper bottles are made with 82% renewable resources, which reduces CO2 emissions by 74%. The 100% natural spring water focuses on an ethical approach for the local community.
JUST water is mainly sourced from Glens Falls, and the papers for the bottles are gathered from FSC-certified forests. Moreover, these BPA-free bottles can be entirely recycled to be turned into building materials, tissues, and paper towels. People opt for JUST water for its pure and fresh taste.
Cost
$0.99 for a 16.9 oz carton
pH level
8.00 pH level
Fluid Ounces to Milliliters
500 mL
Natural Electrolytes/Minerals
Natural, pure spring water with enhanced levels of minerals and electrolytes.
Safety Information
Plant-based, BPA-free water boxes
Product Dimensions
12.68 pounds, 2.4 x 2.4 x 7.7 inches
Pros
An array of sizes is available
The boxes are recyclable
Doesn't contain preservatives or sugar
BPA-free and plant-based bottles
Cons
The bottles aren't dent-proof
Just water product details table
FIJI Water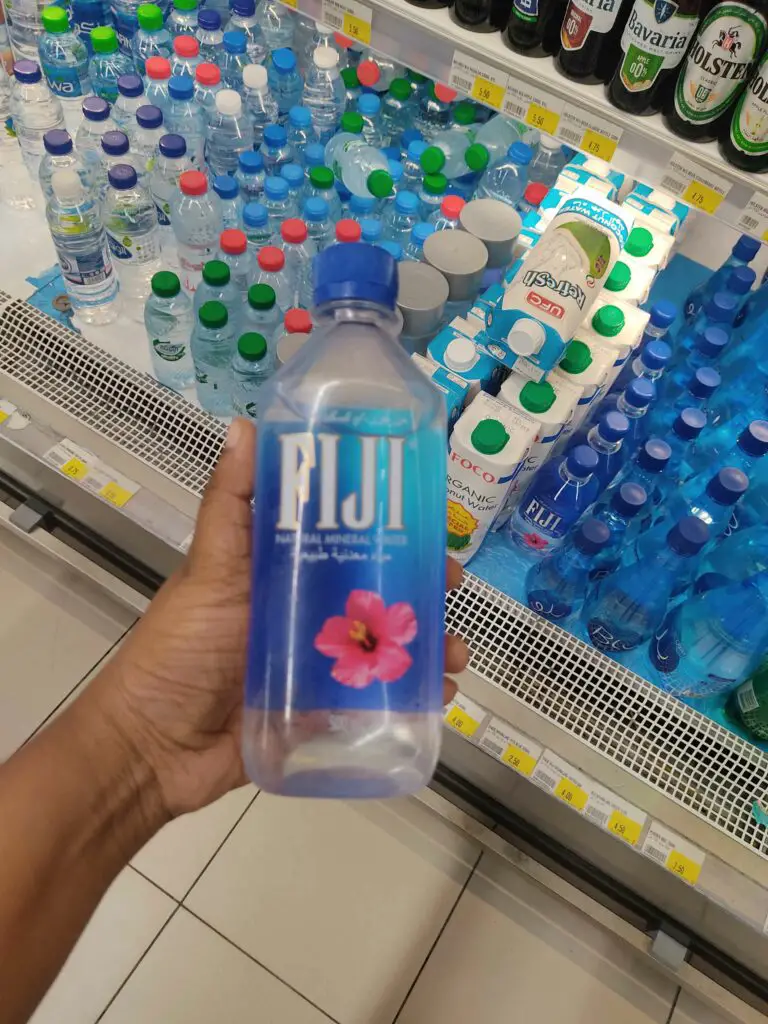 Fiji Water's headquarters is mainly located in California, Los Angeles. The best feature of Fiji drinking water is its electrolyte induction which enhances the water's taste. It is yet another IBWA, EPA, FDA, and BPA-free product that many users live by.
This purified drinking water has a softer and more pleasant taste sourced from the natural artesian aquifer situated in the Fiji Islands.
Fiji water is renowned for being the best 'untouched' water around the globe. This sustainable and finest water has been serving over 60 countries worldwide and has been consistently doing so since early 1996.
Cost
$1.57 – $5.72 based on ounces and liters.
pH level
7.7 pH level
Fluid Ounces to Milliliters
700 mL, 500 mL, 330 mL, 1 liter, 1.5 liter
Natural Electrolytes/Minerals
Calcium, magnesium, mineral silica, chloride, sodium, and potassium.
Safety Information
Doesn't contain any harmful or toxic substances, FDA approved.
Legal Disclaimer
There were high levels of arsenic found in 2006.
Pros
BPA-free
Attractive packaging
Soft, pure, and fresh taste
Has high amounts of electrolytes and contains natural minerals
Cons
ExpensiveDuring shipping, some bottles swell up
Figi Water product details table
Dasani Water
Dasani was created by the brand Coca-cola in 1999. Other than producing BPA-free water bottles, they aim and succeed in meeting FDA, IBWA, and EPA standards. Moreover, their sourced components do not include GMOs or genetically modified organisms.
They filter through reverse osmosis and combine a negligible percentage of minerals and non-carbonated sodium. Their wide range of filtration is dedicated to creating premium-tasting fresh, pure, and clean water.
Cost
$1.89 – $4.28, depending on ounces and liters.
pH level
5.6 pH level
Fluid Ounces to Milliliters
1 liter, 1.5 liters, 16.9oz, 12oz, 10oz, 20oz
Natural Electrolytes/Minerals
Salt, potassium chloride, and magnesium sulfate.
Safety Information
Recyclable, BPA-free.
Legal Disclaimer
Contains the carcinogenic compound bromate.
Pros
Reasonable prices
Has a pleasant taste
BPA-free
Cons
Some have complained about having a sour aftertaste and roughness.
Dasani Water product details table
Evian Water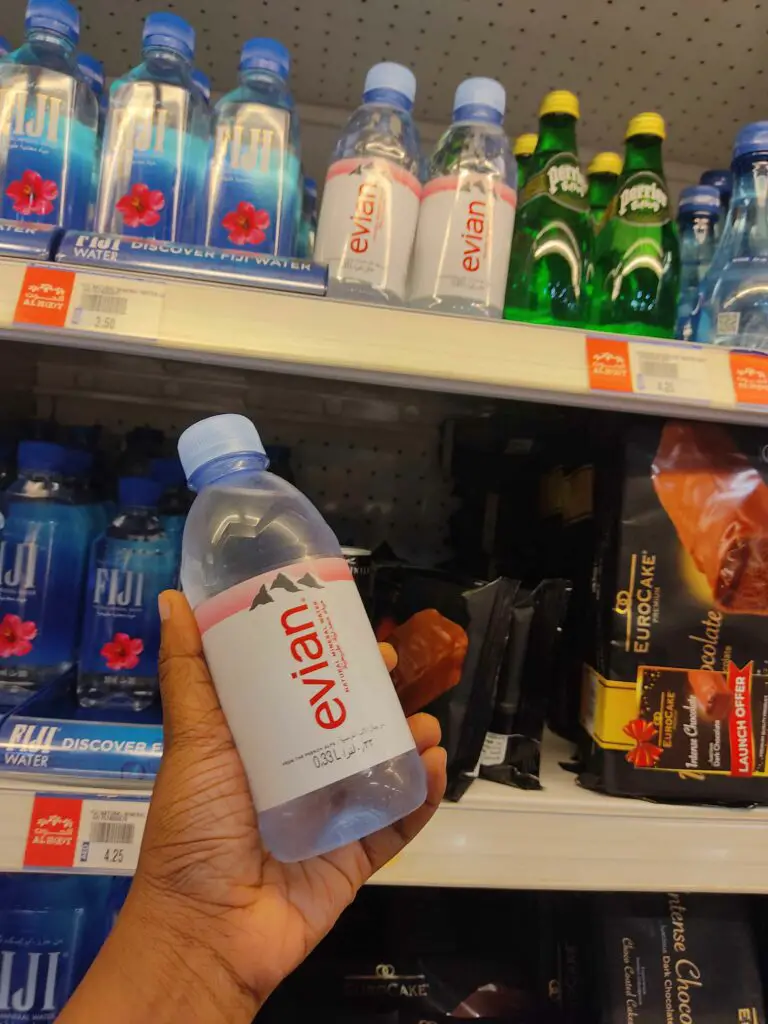 Danone owns the Evian water brands. It's a French multinational organization responsible for originating this mineral water from several locations on the south coast of Lake Geneva and nearby Evian-Les-Bains.
This water brand is appreciated for its nature craft. It all begins as mountain rain, glacial rocks, and snowflakes. For over 15 years, Evian water has brought in purity and delicious-tasting spring water.
It composes of naturally occurring balanced mineral composition and electrolytes.
Cost
$13.68 – $35 depending on liters.
pH level
7.2 pH level
Fluid Ounces to Milliliters
330mL, 500mL, 750mL, 1 liter, 1.5 liter
Natural Electrolytes/Minerals
Balanced mineral and electrolyte composition.
Safety Information
BPA-free.
Bottle Size
2.5" in diameter and 8" tall.
Pros
pH level is neutrally balanced
Comes in many sizes
Tastes delicious in the room and cold temperatures
Recyclable, BPA-free bottles
Cons
Expensive
Evian Water product details table
Essentia Water
Essentia water has been acquired by Nestle USA. The headquarters of Essentia is located in Washington. They have been proud producers of alkaline water for over twenty years.
Their BPA-free water bottles have been consistently maintaining 99.9% purity and composition. Moreover, the perfect blend of ionized alkaline electrolytes keeps the water taste optimized. It's EPA, IBWA, and FDA-approved.
Needless to say, this supercharged alkaline product is bacteria, microorganisms, chlorine, metal, fluoride, and contaminants free.
Cost
$13.25
pH level
9.5 pH level
Fluid Ounces to Milliliters
500mL, 1.5 liters, 1 liters, 700mL, 20oz, 12oz
Natural Electrolytes/Minerals
Sodium bicarbonate, magnesium sulfate, dipotassium phosphate, calcium chloride, and ionized alkaline electrolytes.
Safety Information
EPA, IBWA, FDA and BPA-free.
Purity
99.9% pure, ionized, and supercharged
Pros
A greater use for workouts and camping
No bitter aftertaste
Quality consistency
Supreme taste
BPA-free bottles
Cons
High price point
Essentia product details table
Perrier Water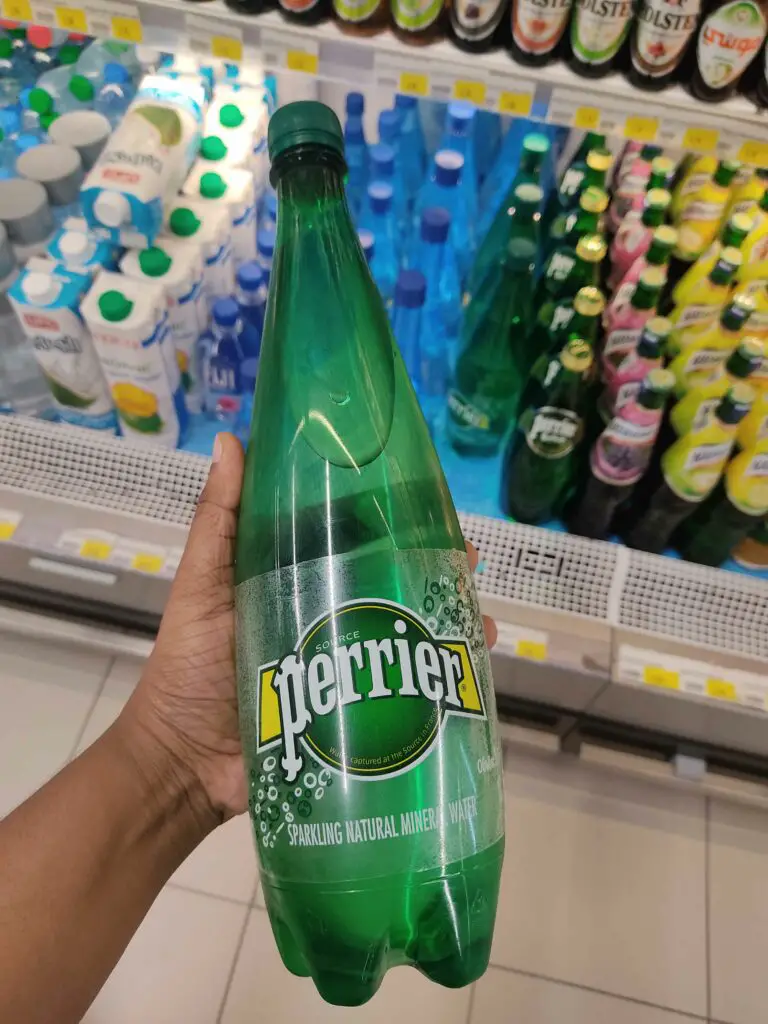 Perrier is a French brand and is produced by Nestle Waters. The water contains carbonated mineral contents and quenches thirst almost immediately through its hydrating bubbles and refreshing taste.  
Moreover, Perrier doesn't input any artificial calories or sweeteners. Its wide flavor range contains pink grapefruit, strawberry, lime, watermelon, peach, green apple, and orange.
Cost
$1.59 – $16.89 depending on the ounces and liters.
pH level
6 pH level
Fluid Ounces to Milliliters
250mL, 500mL, 750mL, 11fl oz, 11 oz
Natural Electrolytes/Minerals
Sulfates, sodium, potassium, nitrate, magnesium, bicarbonate fluoride, chloride, and calcium.
Safety Information
No evidence of any harmful substances has been traced in Perrier sparkling water.
Legal Disclaimer
Some inventories were called back due to tests showing the presence of the chemical benzene years ago.
Pros
No presence of sweeteners or calories
Refreshing bubbles give an amazing taste
A wide array of flavors is available
BPA-free bottles
Cons
Perrier tends to become less carbonated during the shipping
Perrier product details table
Pure Life Water
Nestle Waters became one of the largest water bottle brands in 2008. Its BPA-free product is so authentic and remarkable in taste that it can alternate over sugary, artificial drinks.
The flavor is enhanced through naturally occurring electrolytes and minerals, and there's no use of sweeteners or calories. The bottles are 100% reusable.
Cost
$0.98 – $7.98 based on liters and ounces
pH level
6.8 – 7.4 pH level
Fluid Ounces to Milliliters
237mL, 500mL, 29.571mL, 8oz, 500mL, 20oz, 23.7oz, 1 liter, 1 gallon, 3 gallons, and 5 gallons
Natural Electrolytes/Minerals
Magnesium sulfate, sodium bicarbonate, and calcium chloride
Safety Information
Not recommended for babies under 6 months
Bottle Sizes
2.5-inches in diameter and 8-inches tall
Pros
Natural electrolytes and minerals enhance the blend
An alternative to sugar-induced, unhealthy drinks
Crisp taste and quickly quenches thirst
100% reusable and BPA-free bottles
Cons
Bottle quality is too thin
Pure Life Water product details table
Lifewtr
Lifewtr is a premium brand owned by PepsiCo. Other than being BPA-free, they specialize in top-notch packaging and refreshing-tasting water.
For benefiting people with maximum hydration, it's filled with minerals and electrolytes. Lifewtr also comes in a wide range of sizes to deliver to every need.
Cost
$5.99
pH level
6.4-7.4 pH level
Fluid Ounces to Milliliters
1 liter multipack, 1.5 liter, 1 liter 500mL, 20oz, 700mL
Natural Electrolytes/Minerals
Electrolytes magnesium sulfate and potassium bicarbonate
Safety Information
BPA-free bottles
Pros
A wide array of sizes available
Eye-catching bottle design
Heightened electrolytes optimize the taste
Affordable
BPA-free bottles
Cons
Has a tendency of getting damaged during shipping
Lifewtr product details table
Smart Water
SmartWater is a premium bottled water brand owned by The Coca-Cola Company. It was introduced in the United States in 1996 and has since become a popular choice for those looking for a high-quality and healthy beverage option.
SmartWater is produced using a process called vapor distillation, which involves heating water to create steam, which is then cooled and condensed back into liquid form. This process is believed to remove impurities and create a clean, crisp taste. The result is high-quality water that is both pure and refreshing.
In addition to its unique production process, SmartWater is also notable for its packaging. The bottles are made from 100% recycled plastic and are designed with a distinctive, sleek shape that has become synonymous with the brand.
SmartWater is available in a variety of sizes, ranging from 12 fluid ounces to 1 liter, and is sold in many countries around the world.
Cost
Approximately $1.84 – $19
pH level
7.5 pH level
Fluid Ounces to Milliliters
1.5 liter, 1 liter, 700mL, 20 fl oz, 16.9 fl oz, 12 fl oz, 8 fl oz
Natural Electrolytes/Minerals
Magnesium, Calcium, Potassium
Safety Information
Store in a cool, dry place away from direct sunlight
Bottle Dimension
18.5 x 13 x 8.5 inches
Pros
Enhanced hydration
Added electrolytes and minerals
BPA-free and entirely recyclable
Cons
Higher cost compared to regular water, some may not prefer the taste
Smart Water product details table
Top 10 List of BPA free bottled water brands 2019/2020/2021/2022:
| | | | |
| --- | --- | --- | --- |
| 2019 | 2020 | 2021 | 2022 |
| Fiji | Penta Ultra Purified | Essentia Ionized Water | Essentia Water |
| Evian | Fiji | Aquafina Purified Water | Evian |
| Nestle Pure Life | Propel Electrolyte Water | VOSS | Dasani Purified Water |
| Alkaline 88 | Boxed Water | Fiji | FIJI |
| Glaceau Smart Water | Evian | JUST Water | VOSS |
| Perrier | Essentia Ionized Water | Perrier | Icelandic Glacial |
| San Pellegrino | Acqua Panna Natural | Poland Spring Origin 100% | LIFEWTR |
| Dasani | Glaceau Smartwater | Icelandic Glacial Natural | ORIGIN |
| Ice Mountain | VOSS | Perfect Hydration Electrolyte | Aqua Panna |
| VOSS | JUST Water | Glaceau Smartwater | Poland Spring |
Table of Top 10 List of BPA free bottled water brands 2019/2020/2021/2022
Top 10 BPA-free bottled water brands all the time:
Dasani
Fiji
Evian
Essentia
JUST Water
Perrier
Nestle Pure Water
Poland Spring
Lifewtr
Waiakea
What is BPA free water?
BPA water bottles come into contact with their liquid contents constantly. Moreover, the loose particles within the liquid food can later be ingested by us. If continued regularly, the potential risks this can cause to people are not entirely to everyone's liking.
The downfall of BPA contact products is that they can seep into liquid and food, exposing more significant threats to humans. Additionally, it can also mold and affect children's behavior. On the contrary, according to the FDA, and Food and Drug Administration, even the lowest levels of BPA can be safe.
Therefore, it's also safer to reduce the possibility of coming into contact or intaking BPA-influenced foods and drinks.
BPA-free products are when the organic compound of Bisphenol-A isn't used during the construction of water bottles.
Not only have water bottle companies adapted to this necessity, but in the past and present, many organizations producing storage containers, cutleries, plates, and baby bottles have steered away from the compound.
There's no denying that significant health hazards such as congenital disabilities, diabetes, fertility inconsistencies, and cancer have been traced back to BPA contents in the human body.
Needless to say, BPA-free water bottles have been a massive success as it reduces and eliminates such concerns as the water or food ingested isn't contaminated.
What Health Complications Can BPA Cause?
BPA can cause serious health complications, and it can be responsible for a lot of serious diseases. This chemical substance comes in contact with our water and food through plastic packaging and lids.
Exposure to BPA is a growing concern among people because it can affect the brain and prostate gland of fetuses, infants, and children. It can also create behavioral, reproductive, immunity, and neurological problems in children and adults. 
Here is a list of diseases BPA can cause to the human body:
Increased Blood Pressure
Cardiovascular Diseases
Type 2 Diabetes
Reduced Re-productivity for Male
Heart Disease, especially in female
Loss of Memory
Breast Cancer
Asthma
Clinical Depression
Slow Learning to Children
Eroded Teeth, etc.
As you can see, these are life-threatening diseases. So, you must be careful about this chemical substance from the get-going. Always try to consume BPA-free water and other foods. Check your water bottle and food containers before drinking or eating.
How can you tell if a water bottle is BPA-free?
The best way to tell if water bottles contain BPA or not is to test them. However, that's not always possible, mainly by genuine buyers. In solution, you can look for a few signs on the water bottles that assure you the percentage of BPA used in that particular bottle.
Look for tiny rectangle arrows with a number situated right in the middle. These are stamped on the back of the plastic items as an indication of BPA. If you notice that the resin identification has a label of 1, 2, 3, 4, 5, or 6, you can be affirmative that the bottles are BPA-free.
On the other hand, if you see the number-7, you can't be 100% sure. Almost all plastic resin products are grouped under 7; however, if you notice that the bottle is made of PVC, be sure that it consists of BPA.
What Water Bottles Are BPA Free?
Now that people are aware of BPA free bottled water, manufacturers have switched to PET or Polyethylene terephthalate plastic bottles. It's completely free of BPA. The good thing is that most reputed brands now package their water with BPA free water bottles.
However, it's necessary to know which water bottles are BPA-free. There are hundreds of bottled water brands around us, so it's pretty impossible to learn each and every brand name. So, there's a general rule to find out BPA free water bottles.
You will see the recycled number of water bottles at the bottom inside three arrows, and this number will tell you how the water bottle was manufactured. Most water bottles are made from recycled plastics. The bottles with recycling numbers 1, 2, 4, and 5 are entirely safe from BPA.
But the bottles with recycled numbers 3, 6, and 7 are made of BPA or materials that leach BPA. Number 7 is the recycling number for BPA. So, water bottles with recycling numbers 1, 2, 4, and 5 are BPA-free.
Drinking Water Alternatives
It has only been in recent years, about two decades or so, that we have grown accustomed to relying on plastic water bottles as our primary source of drinking water. Unfortunately, this has resulted in persistent exposure to BPA. The good news is that there are alternatives available.
One increasingly popular alternative in various workplaces is the bottle-less water dispenser. By installing a bottle-less water cooler, organizations can:
Eliminate the need for water delivery: A reliable water service provider such as Quench can install a bottle-less water cooler directly connected to your water line, negating the need for third-party water delivery. Employees will have access to a never-ending supply of drinking water.
Reduce environmental impact: The desire to reduce plastic bottle waste has led to the rise of reusable and BPA-free water bottles that can be filled from a standalone source. By implementing a bottle-less water cooler and providing reusable water bottles, organizations can promote hydration and sustainability.
Leverage filtration technology: A bottle-less water dispenser utilizes a filtration system that removes natural water impurities such as particles, materials, and debris. Additionally, unwanted elements such as bacteria, algae, and harmful chemicals like BPA are filtered out to provide clean drinking water for daily hydration needs.
Providing easy access to clean, mineral-infused drinking water has numerous benefits. Installing a filtration system using advanced techniques like reverse osmosis and sanitization technology can deliver high-quality water to your team while saving money, and time, and protecting the environment.
Summary:
I bet you know everything that there's to know about BPA-free water bottles now. The importance of comprehending the uses, misuses, and properties of BPA is at an all-time high. It's rather tough to bypass BPA-filled water bottles altogether, but the good news is that it's not impossible.
Since now you know which brands specialize in recyclable, BPA-free production, you can stay alert. Choose BPA-free water bottles and stay hydrated!