If you're looking to buy Kinetico water softener parts, this post is for you. Here you will find the Kinetico Water Softener Parts list, including its price, usage, and more. Before moving on to the parts, one needs to check with the Kinetico specialist first in order to get quality products in the market.
However, online portals will make you able to obtain the best parts, but calling an expert always gives worth. So, without further ado, let us get started. 
Water Softener Parts
The given table will show you different parts including its price. 
| | |
| --- | --- |
| Kinetico Water Softener Parts | Average Price |
| Nelsen Salt 18 Grid plate | $34-$39 |
| Aquasure signature series | $1214.99-$1614.99 |
| ABCwaters built Fleck | $1249.99 |
| Kinetico water softener parts | $79.75 |
| Kinetico water softener main base seal | $36.95 |
| Kinetico water softener control valve and cone seal | $36.95 |
| Level 1 Seal gasket | $36.95-$39.99 |
| Drain valves | $225 |
| Kinetico venture throat | $39.99 |
Besides, there are many more parts you should look into. Here are the details.
| | | |
| --- | --- | --- |
| Tablet salt retainer | Best for customers who do not want to use block salt | $23.00 |
| Salt lid hinges | Use to modify to take a new style hinges | $10.16 |
| Noryl ¾ BSP males in/outs | Best for all water softeners | $29.82 |
| Brine float valve 2020c & mini-B & Aqua-blu | Best for giving support plate | $69.41 |
| Bss brine valve conversion kit | Good to assemble with blue resin tanks | $107.9 |
| Kinetico 2020c HE level Assembly | Suitable for HE water softeners | $235.87 |
| Pawl set | Include complete set of pawls and springs | $25.76 |
| Actuator and seal | Perform manual regeneration | $10.84 |
| Hose washer | Fit for inlet and outlet | $4.74 |
Kinetico Water Softener Parts Diagram With Guide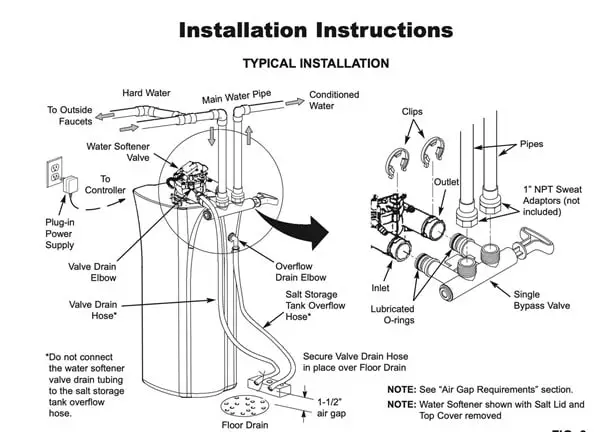 With the given diagram of softener bypass valve operation, you can easily understand its installation and working process. 
The water softener bypass valve is the particularly normal part that includes the part of the control valve, which is on the top of the water tank. Here's how you can do it. 
Turn on the water softener 
Autorol the water conditioner bypass
Culling the push bypass valve
Fleck bypass valve
Lever bypass valve
Manual water softener valve
Rotating bypass valve
Leaky bypass valve
Return water softener operations
Piping arrangement 
Location bypass valve
Turn off the water softener
Now, let us move to the next diagram that indicates several parts.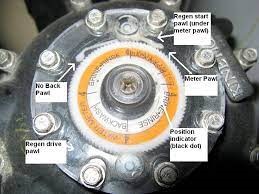 With the given image, you can easily identify the parts, such as on the top of right side there is regen start pawl then next meter pawl and next position indicator. Now moving to the left side of the picture, there is no black pawl which is next to regen drive pawl. 
How long does a water softener last? 
By consulting with experts, water softeners can last up to 10-12 years based on the quality and brand you buy. On average, the single electric water container can last for 12 years. However, the Kinetico system can last 20 years. 
What are the best tips to increase the life of parts?
The experts have recommended some important tips to increase the life of parts such as:
Changing filters frequently can help you enjoy a healthy life. 
Keep adding regenerant, thus it will not run out from the stock.
Do not replenish the salt supply
Do not use softener harshly
Check hardness of salt
It is true maintenance is very important if you want to increase the life of water softener. Thus, you can enjoy the life of water softener, and naturally, you can cut the cost. Most often, we recommend you choose the right softener. Remember, a single tank electric system may need higher time to provide quality results.
How much does it cost to replace the resin water softener?
Basically, a resin water softener can cost up to $200-$400. However, the actual cost depends on the brand and quality you have opted for. All you are suggested to choose the quality water softener that gives worth. 
How do you check the water softener?
The given steps can help you, so have a look.
Find the water is still easy to lather 
Offer high-quality output
Clean faucets, pipes, tiles, and sinks.
Less pressure
Taste of the water
No regeneration cycles 
Leakages 
Internal problems
Which is the best salt for Kinetico water softener?
To get the most out of water softener, you have to check its maintenance and also use quality salt evaporated salt. It is good quality salt that often works best with sodium chloride, a common compound to use a water softening system. 
The Bottom Line
So, with the above discussion, we hope you got to know the Kinetico water softener parts. Whether you're planning to replace or buy new parts, always check with a specialist. Good luck!